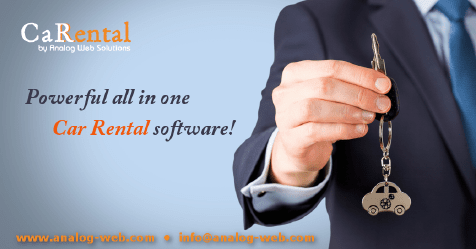 A cloud based, advanced and easy to use Car Rental Software, is ready to go by Analog Web Solutions. Boost your web presence and manage your car rental business, taking advantage of the unique features and tools that our Car Rental Software provides.

Basic core features.
• Unique, full responsive web design and fully customizable front end.
• Online reservation system.
• Order management.
• Car management system.
• Statistics module with custom reports.
• Calendar module with task manager and email notifications.
• Email and sms notification of new orders, modifications or cancellations
• Members management with members reward system.
• Membership types with optional discount type and amount.
• Quick and easy guest car reservation checkout.
• Discount coupons system.
• Gift certificates system.
16 Mar 2017